Weekend Recap
Its Monday Again! after a semi busy weekend at work its finally my day off.
I have big plans for today. Ill go get some steak! mmm steak! I also plan on going thrifting, maybe a new Vintage Shop will to be born from the treasures I find, any suggestions for the name? ill be sure to bring cash along because some of these places don't take credit cards.
I did some painting over the weekend and It resulted in the following pieces:
This Macabre Easter Inspired Skeleton ACEO that turned out Great that is now for sale at my
Etsy Shop
The backwash is made in watercolors and the rest is finished in acrylics. It looks so much better and brighter in person :)
I also finished another cool Skeleton "Zorro" inspired ACEO that I started a long time ago but had been procrastinating to finish.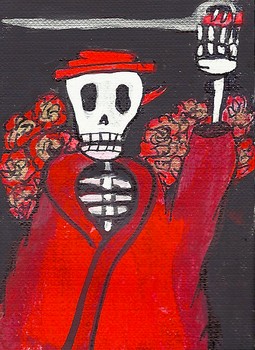 Avaiable for sale at my
Artcardswanted Gallery
:)
I also finished a little surprise that I cooked up for my friend Bruce but I wont spoil it :) ill blog it next time
What else did I do this weekend? well yesterday we went out to breakfast with my family.
This is a pic of me with my Baby Nephew :)
So after after much painting, blog reading, Etsy chatting and tv watching here I am!